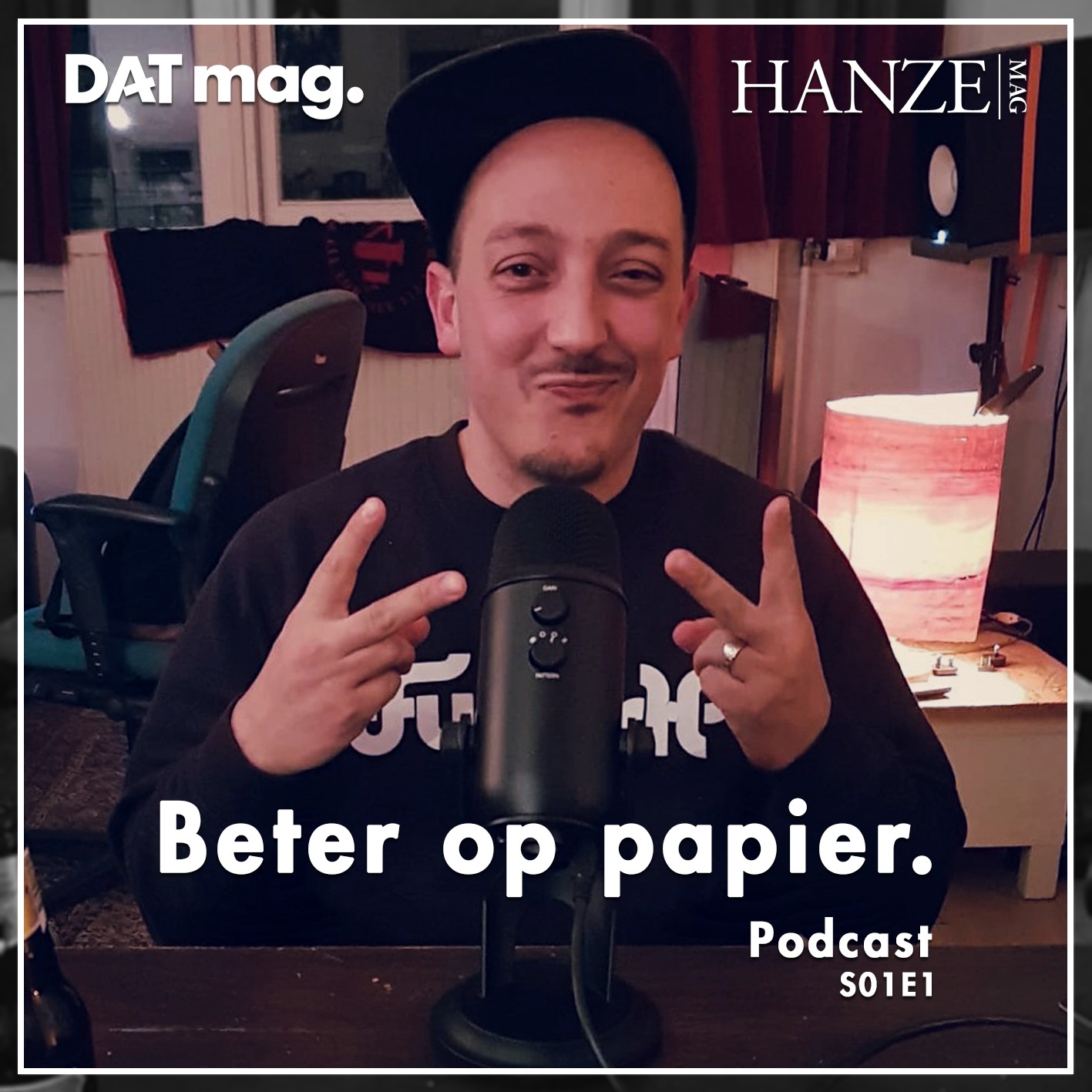 In deze eerste aflevering van BETER OP PAPIER. podcast - die we in samenwerking produceren met onze vrienden van DATmag.- spreken we Hanze-alumnus Deejay Irie over zijn carrière in de muziekindustrie, zijn jeugd in de straten van Sao Paolo en de cultuurshock die hij als kind kreeg toen hij op zijn negende naar Heerenveen verhuisde.
Wereldkampioen DMC
Deejay Irie is meervoudig Nederlands kampioen Disco Mix Champion (DMC). In 2017 won hij de Red Bull 3Style in Nederland en plaatste zich voor de World Championship in Krakau.  Daarnaast is hij wereldkampioen DMC en de all time champion in Visual DMC. Voor degene die geen idee heeft wat dit allemaal betekent: Irie is een scratch dj die zijn kunsten on the wheels of steel niet alleen met geluid, maar ook met beeld aan de man brengt.
Familieleven vs. Sterrenstatus
Het leven van een dj is er één van glitter en glamour. Zo sta je van de meest hippe tot de grootste underground clubs te draaien. Hoe dat te combineren is met een familieleven weet Irie als geen ander. 'Het is een kwestie van nemen en geven, credits opbouwen en accepteren dat het echte leven gewoon thuis is.'
Rigide werkethos
Als je de beste van de wereld wilt zijn dan moet je trainen als de beste van de wereld. Irie vertelt over zijn ochtendroutines en zijn aanpak wanneer hij naar een wedstrijd zoals Red Bull 3Style toe werkt. Soms klinkt het alsof hij het over iets compleet anders praat dan turntablism. Zijn aanpak klinkt eerder alsof hij zich voorbereid op een straatgevecht. Serious business!
Early days
Voor de rest duiken we tijdens dit gesprek in de jeugdherinneringen van de dj. Wanneer begon zijn passie voor muziek? Wat doe je in een plaatsje als Heerenveen wanneer je met muziek aan de slag wilt? En natuurlijk; hoe ging zijn eerste battle? 'Oh man, ik ben toen zo hard op m'n bek gegaan. Terecht ook, ik was slecht. Maar dat hoor erbij weet je.'